When planning the perfect trip to anywhere, food is a huge consideration. It can be stressful trying to find the perfect place to eat for the family or a nice brewery or winery to visit on your own. Fortunately, when it comes to the city of Leelanau, MI we've got you covered. Our Leelanau Pines Campground is right on the shores of Lake Leelanau in Leelanau. As a result, we've become experts on the area. Below, we've outlined a few restaurants, wineries, and breweries that we personally recommend and hope you give a try during your next visit!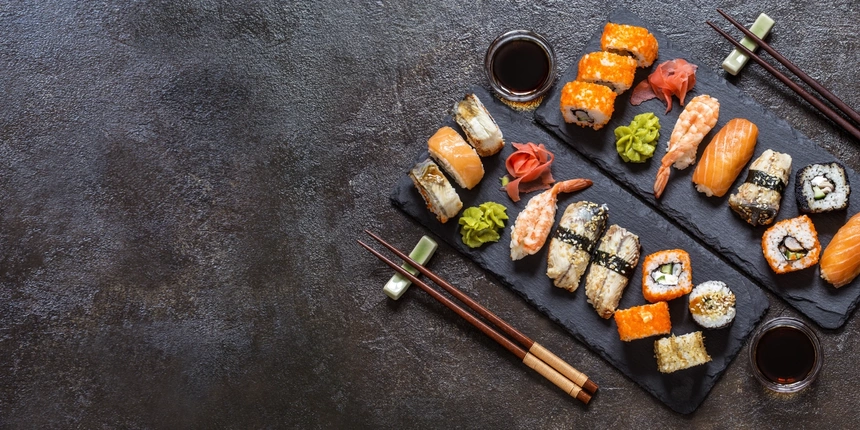 Restaurants
Finding a place to sit down and grab a bite can be tough. With so many different options and varying reviews, it can be difficult figuring out what places are truly good. Well, we can help with that! The Leelanau area has tons of restaurants to choose from with delicious food options. We've compiled our top five Leelanau restaurants below!
amical
This restaurant, located in Traverse City, has been offering European food in the area since 1994. For nearly 30 years amical has been serving a premium fine dining experience with an open kitchen and a dark ambience. The staff is all professional and friendly and the food is delicious. If you're looking for somewhere for a date night or just somewhere nice, check out amical.
PepeNero Ristorantino Mediterraneo
Chef Giorgio Lo Greco's philosophy and promise is to serve simple, thought out dishes. This entails letting the ingredients speak for themselves, "[adding only] memory and [his] passion for food." They have a gorgeous dining room and the food looks (and tastes) even better. For a nice night out and some great Italian food, check out PepeNero.
Bubba's
For people wanting a spot you can take the whole family to, give Bubba's a try. This family friendly restaurant and bar offers burgers, breakfast, wings, and more. The atmosphere is always fun and energetic and the service is always great. The food is fantastic and is like if your neighborhood diner took everything up a level (or a few). If you're looking to enjoy a nice family meal, give Bubba's a try.
Slabtown Cafe & Burgers
This unique and bustling burger joint, crammed into an old Victorian home, is a favorite for many in the area. They serve a variety of fun burgers including one stuffed with bacon, jalapeno, and cream cheese. They also have hot dogs, wraps, and chicken for anyone who isn't feeling up for a burger. Slabtown Cafe & Burgers is a must when searching for restaurants in Leelanau!
Red Ginger
For anyone craving Asian cuisine near Leelanau, you can't go wrong with Red Ginger. They have great sushi and tons of options like curry, fish, and more. They have a fun and light atmosphere while also retaining a sense of professionalism and sophistication. They do have a dress code and ask that you dress business casual. For someone looking for a great place to enjoy some great Asian food, visit Red Ginger.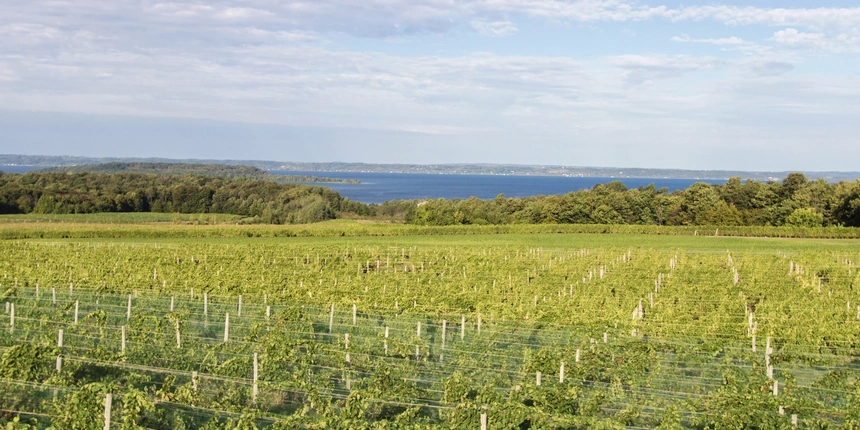 Wineries
The Leelanau area is invested in their wineries. Dedicated to remaining authentic to the region as well as to the other wineries. These wineries are all part of the larger community and cooperate to bring the Leelanau wine community together. If you're in the area, make sure to check out one (or multiple) of these great wineries in Leelanau.
Leelanau Wine Cellars
Leelanau Wine Cellars is one of the bigger wineries in Leelanau Peninsula. They have a wide variety of great wines and offer more than 60 labels in their tasting room. They have plenty of fantastic wines including award winning fruit wines and their delicious witches brew. Come out and visit Leelanau Wine Cellars for a wide variety of wines to enjoy during your Leelanau camping trip!
45 North Vineyard & Winery
This winery began its story in 2006 when Steven and Lori Grossnickle purchased the land. These 100-acres, sat on the 45th parallel, hence the name, is dedicated to farming forever. With help from the Leelanau Conservancy Steven, this winery was able to ensure that the land would be protected. With these strong conservation and sustainability efforts, they aim to craft high quality wines. Make sure to visit 45 North Vineyard & Winery's tasting room and try their large variety of high quality wines.
Good Harbor Vineyards
Family farmed since 1980, Good Harbor Vineyards, located close to Lake Michigan and on the 45th parallel is extremely intentional with their wines. They have studied the area closely and know how to best care for the grapes to achieve the best wine possible. They have an award winning Pinot Grigio as well as an extremely tasty cherry wine at this Leelanau winery.
Boathouse Vineyards
Boathouse Vineyards is a quaint winery located right on Lake Leelanau. Their tasting room is located on a waterway connecting North and South Lake Leelanau. Sign up for a tasting and enjoy their wines from their covered porch or outside watching the boats go by. They have plenty of good wines to try, but their Pinot Grigio and Muscat 2021 are superb.
Chateau Fontaine
Dan and Lucie Matthies, and their son Doug, started Chateau Fontaine in 1989 when Dr. G Stanley Howell visited the area and was impressed by the land. Finding the perfect soil pH as well as many other factors combined for excellent grape-growing conditions. As a result, Chateau Fontaine has managed to produce many award winning wines. Come out and visit this Leelanau Peninsula winery for a chance to taste some really excellent wines.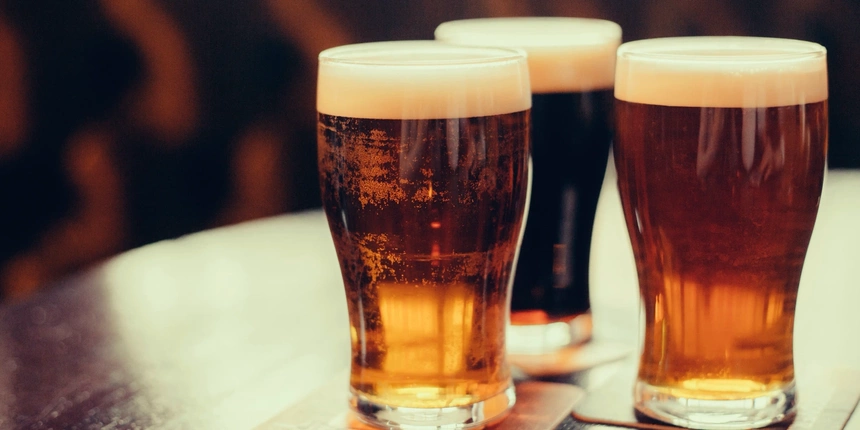 Breweries
Leelanau, MI offers plenty of breweries but finding the best ones to visit can be tricky. Fortunately, if you're looking for a cold one in Leelanau or trying to sample some craft brews near Traverse City, these five breweries we've compiled below should have you covered.
Bier's Inwood Brewery
Brewing started as a hobby for Tyler Bier, after some time however, he opened Bier's Inwood Brewery. Operating in an old Victorian style home, and featuring plenty of pieces of original artwork, Bier's Inwood Brewery is a really cool brewery. Offering 12 different brews on tap, this Leelanau Peninsula brewery has a huge variety. From double IPAs to a coconut porter, this brewery has something for every beer-drinker.
Hop Lot Brewing
Hop Lot Brewing is as dedicated to the experience of their brewery as they are to the beer and food they serve. They aim to operate a fun and unique outdoor beer garden with the feeling of Northern Michigan, complete with campfires, s'mores, picnic tables, and more. They have a wide variety of beers to try including different ales, IPAs, and a kettle sour. If you're looking to try some beer and enjoy the experience of Northern Michigan, give Hop Lot a try.
The Workshop Brewing Company
The Workshop Brewing Company will not amaze you. They put it right there on their website. "We will not amaze you with newfangled beer: we think our old-fangled stuff - all made with Michigan and/or organic ingredients wherever humanly possible - will do the trick just fine." They keep their beers interesting and simple without the need to serve a "fruit loops hoppy sour IPA" or anything crazy. They keep it simple, they keep it real, they make beer. 'Nuff said.
The Filling Station Microbrewery
Located in the Traverse City historic railroad district, The Filling Station Microbrewery features a rotating list of about 15-20 different beers which pair perfectly with their flatbread pizzas. They have a huge list of beers to choose from ranging from lagers, IPAs, a pilsner, and more. Their beers are fantastic, but so is the pizza, being ranked the best pizza in Traverse City! For great beer and great pizza, check out The Filling Station.
Farm Club
Farm Club has a little of everything for everyone at this brewery in Leelanau Peninsula. They're a restaurant, bakery, brewery, and farmers market located right in Leelanau. They have a strong conviction towards sustainability and giving back to the local community. They brew a few different beers, all of them light and floral. Their refreshing beers can be found in their restaurant or at a variety of different stores all around the state.
Whether you're looking for a nice family restaurant, a beautiful vineyard & winery, or a cozy taproom to discover, Leelanau, MI has a place for you. If you need a place to stay while out here though, check out our campground, as we are only a short distance from all of these excellent spots! To book your stay, call (231) 228-5742 or click here to view availability. We look forward to seeing you soon!